Hale Tile & Stone –
Mission Viejo, Aliso Viejo, Orange County Tile Installer,
Professional Tile Installation
---
Ceramic tile is a natural product made up of clay, a number of other naturally-occurring minerals and water.
Glazed ceramic tile has a ceramic coating applied to the tile body which gives the tile its color and finish. Glazed ceramic tile is a popular choice for your interior floors and walls and offers unlimited decorating possibilities.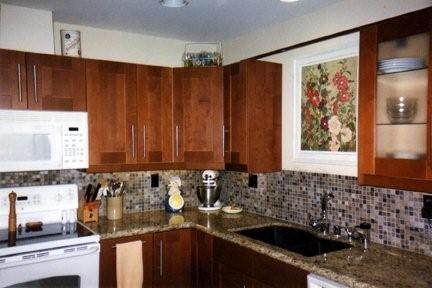 Some characteristics of glazed ceramic tile are:
• Durable – a properly installed ceramic tile will out perform and outlast nearly any other floor covering product created for the same application.
• Easy care – glazed ceramic tile resists stains, odors, and dirt and can be cleaned up with a damp mop or sponge or common household cleaners such as Mr. Clean, TopJob or Spic and Span.
• Scratch resistant – Grade III and Grade IV glazed ceramic tiles are extremely resistant to scratching and you never have to worry about a cut or tear like you do with some other types of floors.
• Environmentally friendly – ceramic tile is manufactured using natural materials and does not retain odors, allergens, or bacteria.
• Beautiful and Versatile – modern ceramic technology has created virtually an unlimited number of colors, sizes, styles, shapes, and textures that will add rich beauty and character to any room decor.
• Fire Resistant – ceramic tile doesn't burn nor emit toxic fumes. A lighted cigarette, when dropped on the floor, even if allowed to sit, will not do any damage to ceramic tile. Even hot kitchen pans or skillets will not scorch or melt the surface of glazed ceramic tile.
• Water Resistant – most glazed ceramic tile has a dense body that permits little or no accumulation of moisture. This means spills from common liquids found in a kitchen are not a big concern.
Unglazed Floor Tile (Pavers) – There is no glazing or any other coating applied to these tiles. Because these tiles are porous, it is recommended that a special penetrating sealant be used to maintain these types of floors and to help prevent stains from seeping into the pores of the tiles.
---

Porcelain – Porcelain is a very strong, affordable tile that is extremely durable. Many porcelain tiles produce a natural stone, paver, or an antique rustic look. There are many lines of porcelain tile with trim and decorative tiles to match.
---
Slate – Slate is a traditional, metamorphic rock that tends to split along natural grains and fissures in the rock creating a rustic surface that is appropriate indoors and out.
---
Italian Travertine and Limestone – Italian Travertine is a type of limestone that's formed near underground springs. It is best to seal the stone to protect against stains and a filled version is probably best for wet areas because the natural pits may collect water. Limestone is usually creamy white to soft gold-beige, is a sedimentary rock that is more porous than granite and marble. Limestone must be sealed to prevent unsightly staining.
---

Marble and Granite – Marble is a natural product and is not made in a factory. For this reason no two pieces of marble look the same and the veining is a natural characteristic in all marble. There are special marble sealants to help protect from staining of the face. Extra care should be used when cleaning and all abrasives and acidic cleaners should be avoided. Granite is another natural stone and is not manufactured in a factory. Granite can be used indoors or outdoors and is less porous than marble. It is recommended to use a sealant to protect the finish from staining.
---

Mosaic Tile (marble, glass, ceramic) – Mosaics refer to any very small tile 2-inch square or less in width. It can be made of glass, porcelain, stone or clay. These tiles are often used to create artistic designs, add decorative accents to field tiles, or shower pans.
Grout – Grout is a mixture of cement and a color additive. For tile floors with wider spaces between each tile, sand is added to the grout. Also, a liquid latex additive can be added to the grout to give better resiliency to the grouted areas. For ease of maintenance, a penetrating sealant should be used on the grout. It should be noted you may see a change in color of your grout over time.
Some of the other important things we can help with when selecting a tile floor is the slip-resistance, the size and color of the grout joints, the thickness of the tile, height variations from room to room, size of the tile, suitability of the sub-floor, and cleaning of the tile.